Balance bikes have dramatically increased in popularity recently, and it's no surprise why. They are a great mid-way solution for children who are not yet old enough or tall enough to use a larger 2-wheeled bike with pedals.
At the same time, however, they provide a similar level of freedom and enjoyment that any child would wish to experience from owning their own bike. So, if you're thinking of purchasing your child a balance bike, you no doubt have a number of questions running through your mind. Such as, what exactly is a balance bike? Do I need a metal or wooden balance bike? Which balance bike should I buy for my child in NZ? And, how much am I expected to spend? Well, it's time to stop panicking.
Plenty of parents have found themselves in the same position as you, and we help numerous families every single day find the perfect balance bike best suited to their child's needs. The first step to clearing up the process is reading everything below. We have selected the most common questions we hear, and have provided thoughtful answers to help make the process much easier for you. So, without further ado, let's get started!
What is a Balance Bike?
A balance bike is a 2-wheeled bike that has no pedals, and is designed to teach children as young as 18 months old to balance on two wheels. After a short period of learning, children and toddlers are able to learn to ride, jump and coast on their bikes all on their own - parent-free!
Since balance bikes don't have pedals, children instead guide the bikes with their feet. The key to riding a balance bike is to make sure that your child's feet can be placed firmly on the ground when they are sitting.
To ensure they use the bike correctly, they need to be able to touch the ground. You can ensure you find a bike that's suitable for their height by matching their leg length with our online size guide below.
What ages are Balance Bikes suitable for?
You will be pleased to know that a balance bike will broadly suit those toddlers and children aged 18 months to 5 years old. However, this is just an approximation, as actually, the main factor in determining whether a balance bike will be suitable for your child is the length of their leg, not their age.
This is because, as mentioned previously, in order to successfully use a balance bike and gain any confidence and use from it, your child's legs need to be able to touch the ground whilst they are seated on the bike.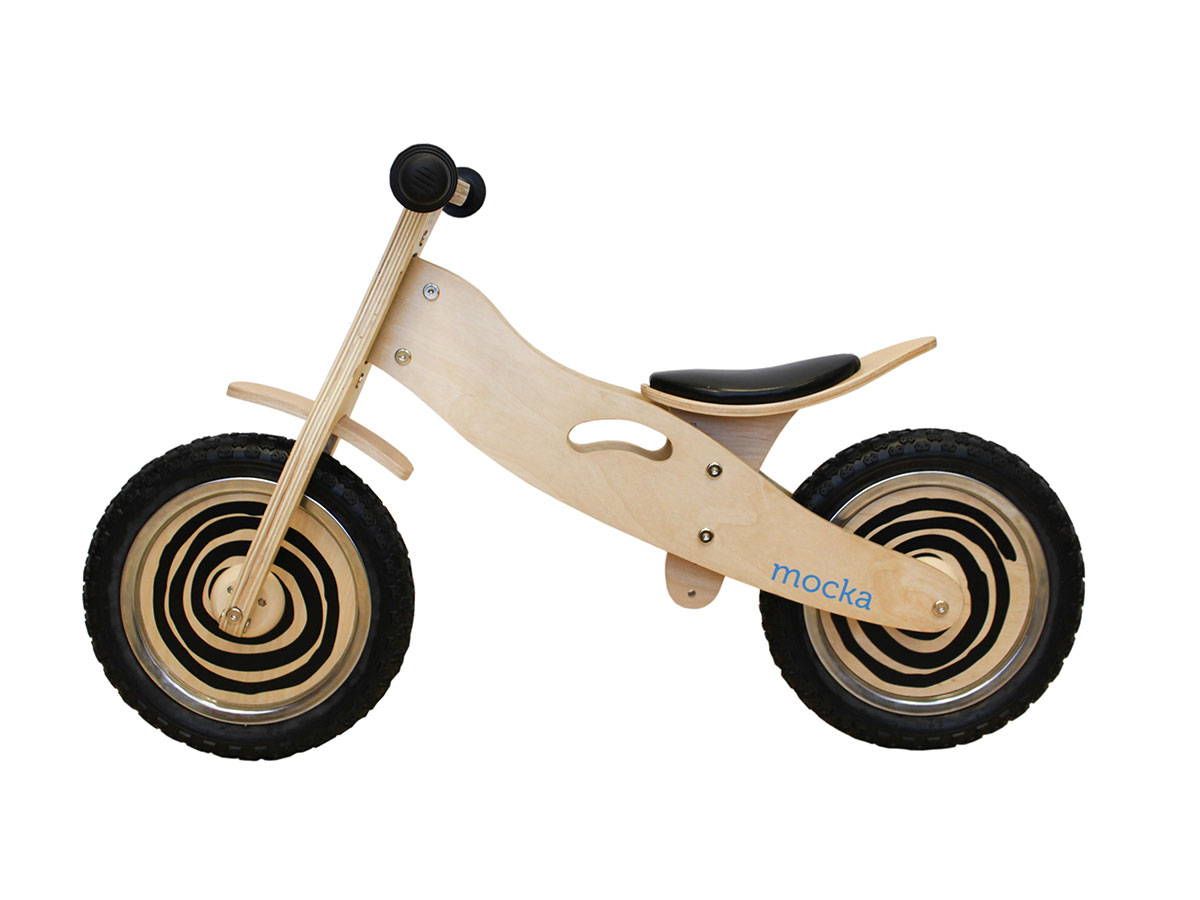 So once you've chosen a bike that fits your child's leg size, then you can feel confident that they will feel confident too. But don't worry, we offer a whole selection of balance bikes that range in sizes. As such, you should be able to find one to suit your child perfectly.
Balance Bike Sizing Guide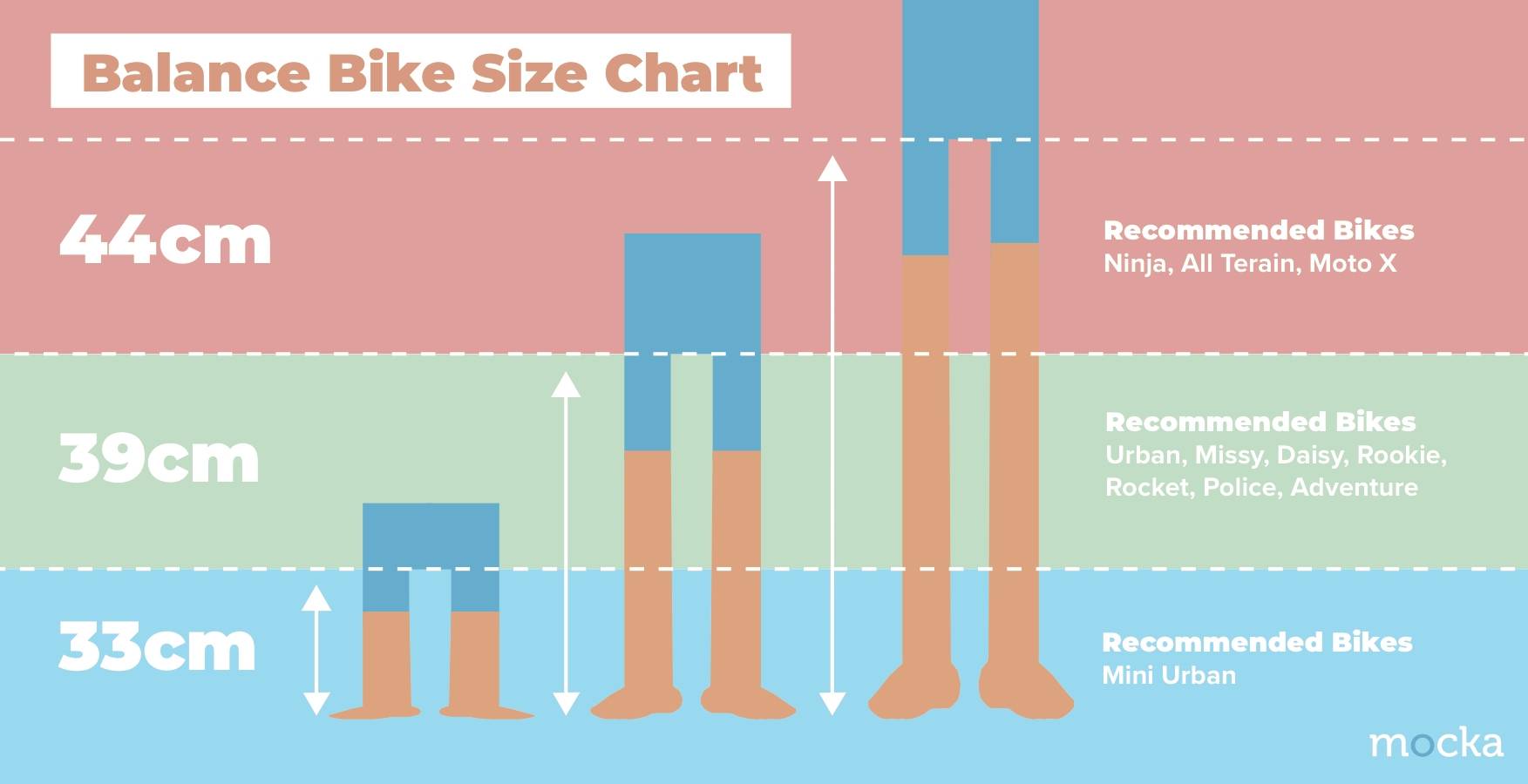 What are the benefits of using a Balance Bike?
When it comes to using a balance bike, there are a range of brilliant benefits on offer. The most obvious benefits are that your child will develop excellent balance skills, which is beneficial for other sports activities they may participate in either now or the future.
They are also a great way to start learning to ride since they are so simple. This means balance bikes are both reliable and durable.
They can easily roll on rough surfaces and tarmac, and they are a great way to help ensure your child doesn't fall behind on family outings. Since learning to ride a balance bike is so simple, it's a great and easy transition to riding a pedal bike without the need for training wheels. Not only that, think of the boost of confidence your child will have from such a young age. That certainly can't be a bad thing!
When your little one begins to use their first ever balance bike, you may find that they 'walk' the bike. This is just a case of them holding onto the handlebars and using their feet to walk with it - this is actually completely normal and expected.
Over a period of time, they will eventually learn to sit on the seat and move with their feet. After a little while, they will start to glide along, picking up their feet and learning to balance. When they have mastered gliding as well as the ability to navigate around obstacles, they are now ready to make the transition to a pedal bike - one without training wheels.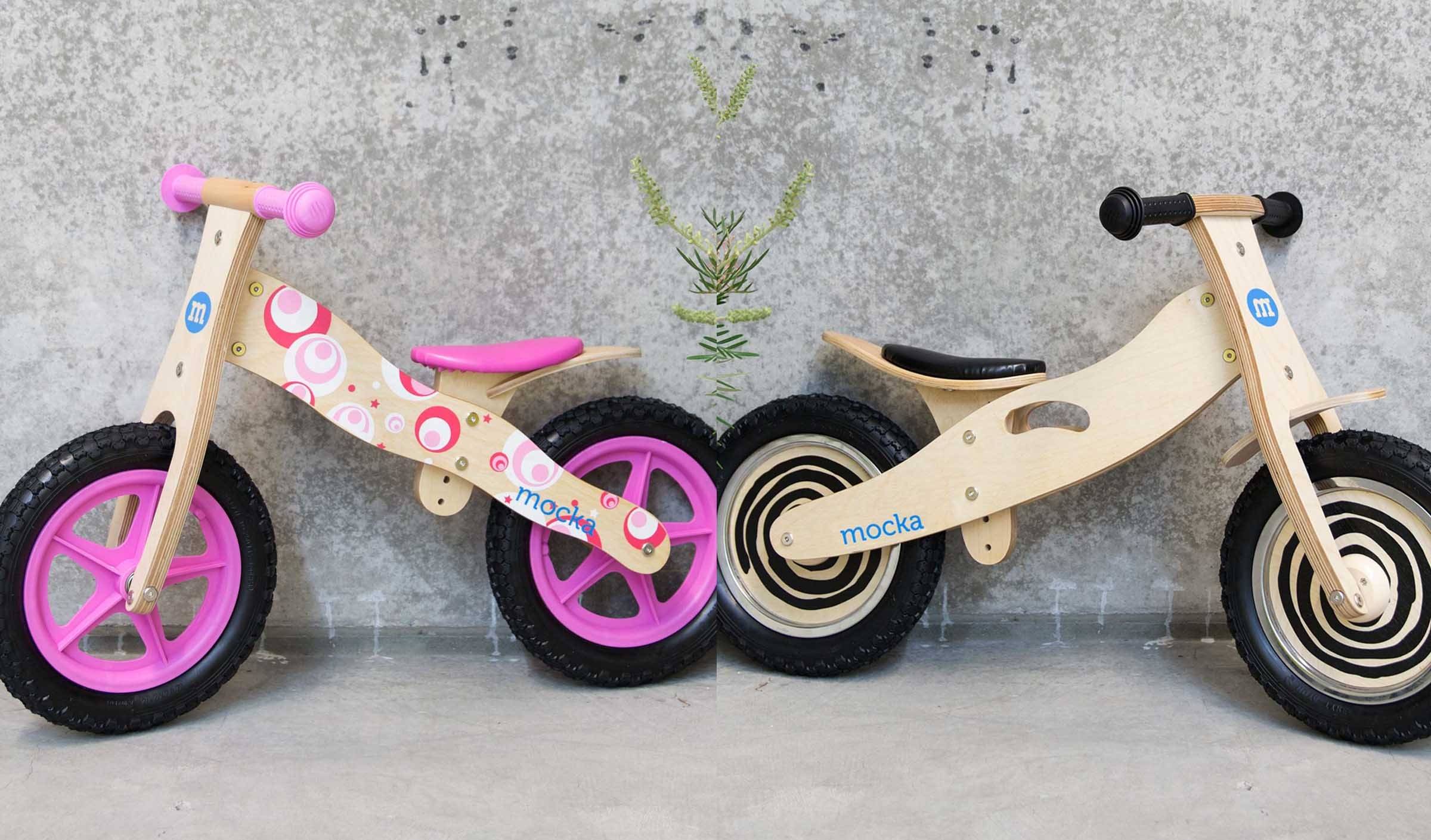 Why should I avoid Training Wheels?
Many of us learned to ride a bike with training wheels and of course, we are proof that they work! However, the issue with training wheels is that many children start to become reliant on them, which prevents them from developing their ability to balance.
Those children who end up learning on the training wheels begin to avoid counter-steering. Counter-steering is the process in which you turn a pedal bike - you lean into the turn while twisting the handlebars the opposite direction.
When you remove the training wheels, your children need to learn how to steer and balance all over again. Once your child is ready to move on from their balance bike to a pedal bike, the only skills they will need to worry about are braking and pedalling, which is easier since they will have already aced the basics.
These new skills are typically so easy to learn that you will find your child begins to master them within a day or two. Lots of parents argue that those children who learn on a balance bike begin to ride an actual bike much earlier than children who begin with training wheels.
Are metal or wooden balance bikes better?
The honest answer here is that both are just as good! Both metal and wooden balance bikes are durable and built to last. So it's really a personal preference on the style and colour that you like.
However, with so many great colours to choose from, you may struggle to settle on a favourite.
Thanks to such a diverse range of bikes, you can be sure that there is a bike that will reflect your child's style and personality, which will mean they love their bike from the onset.
How long do Balance Bikes last for?
The length of life of your balance bike will ultimately depend on your child and the model you have chosen, and of course how well you look after it. Typically, however, balance bikes tend to last around two to three years.
If your child is super confident and picks up the necessary skills quickly, then you may find that they grow out of the balance bike quite quickly, but don't worry, if you have other children, perhaps it could be passed onto them. On the other hand, if it takes your child a little while to find their feet, then you may find they use the balance bike for longer.
Either way, you can be sure the balance bike will continue to stay durable, safe and practical for the duration of time that you need it.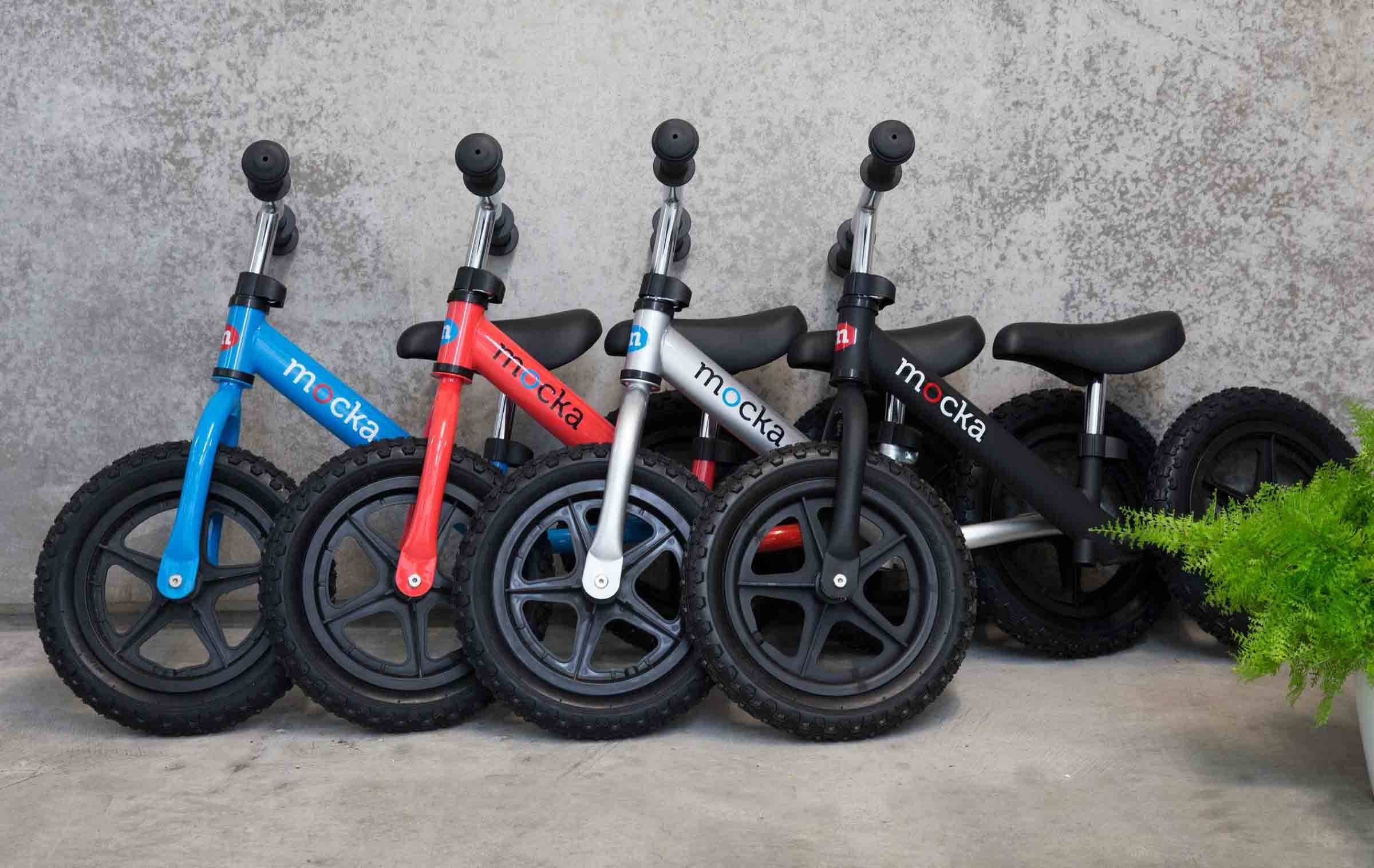 ---
What is the best Balance Bike for my child?
With so many amazing balance bikes to choose from, it can be difficult to pick the perfect one for your toddler or child. Below we have put together some recommendations for balance bikes that we think would be perfect for your child to begin on.
These suggestions are only a guide to help you consider different options, of course, you may find that a different balance bike is more suitable for your child. It's completely up to you! Remember, height is more important than age when considering which model to choose.
For shorter children: The Mini Urban Balance Bike ($89.95)
The balance bike we recommend for children with shorter legs is the Mini Urban Balance Bike. It's got all the same brilliant features of its big brother (the Urban bike) but is made with young toddlers in mind and suitable from 18 months old. Simple design features include EVA tyres, a flat seat and a range of seat height settings.
For children of an average height: The Urban Bike ($89.95)
The trendy Urban Balance Bike is perfect for whizzing down to the park or the local store. It allows children to burn excess energy while still developing confidence and balance. You can also feel reassured that the solid construction meets all safety standards. The urban bikes come with three seat settings which range from 34 cm to 39 cm and are suitable for those toddlers aged 2 years old. It's puncture-resistant tyres, NZ safety approval and adjustable seat height make the Urban a real winner!
For taller children: All-Terrain Bike ($79.95)
This bike is perfect for toddlers aged three and above, or toddlers who are taller than average. It's a durable balance bike, featuring puncture resistant tyres which make it the ultimate bike for all NZ road conditions, from beach, gravel, grass and more! Your child will absolutely love family walks when they zoom around on their balance bike. The All-Terrain is built to last with a sturdy frame and an adjustable seat from 38 cm to 42 cm, meaning it can grow and develop as your child grows. It has also been built to meet the relevant safety standards so you will not need to worry about the safety of the balance bike. We know your child will feel cool and confident on this bike!
Don't forget you can check your child's sizing by measuring the inner leg and comparing it to our useful size guide online to help you find the perfect balance bike:
With every bike you view on our website, there is an online size guide on the page to help make the process of finding and buying even easier. Simply compare this to your child's leg size and you've found what you need!

---
How much do Balance Bikes cost?
You will be glad to know that the answer is not very much! Balance bikes typically range between $69.95 to $89.95 depending on the style you have chosen. Typically, those with more simple design features will be cheaper, and those that offer that little bit extra, such as extra seat adjustments, will naturally be a little higher.
Whatever your budget, you can find a balance bike that's perfect for your child. It's an investment into their future, bringing them new skills, a surge of confidence and of course, a massive smile on their face. Here at Mocka, we have the largest range of balance bikes New Zealand has to offer for girls and boys aged 18 months to six years old.
This means with us, you can find a balance bike that's both affordable, modern, safe, and suits your child's personality.
We hope that these answers have helped inform you on all you need to know about balance bikes to ensure you make an informed decision when and if you come to purchase a balance bike. If you are interested, you can check out the complete range we have here at Mocka online today AND if you sign up to our newsletter, you could be in with a chance to win a $250 voucher and be the first to hear about our new products. If you require any further information, don't hesitate to get in touch today!